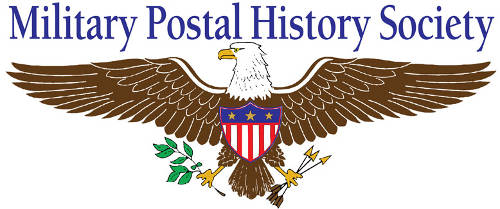 Announcing a New Bulletin Editor for the Military Postal History Society
Dann Mayo has been a philatelic exhibitor, judge, bourse dealer, auctioneer, catalog compiler and society bulletin editor. At age 71, he now describes himself as "retired and with time on his hands" — a tragic condition we hope to remedy in the near future. Dann started collecting stamps at age 10, and civil censored covers somewhere around the age of 30. Thanks to being an Army brat, he has had an abiding interest in military history which has shown up in his numerous philatelic pursuits.
Beginning in 2020, Dann has been selected to take on the editorship of the MPHS Bulletin following the untimely passing this last December of editor Tom Johnston. 
A PERSONAL NOTE FROM DANN

Now that the Bulletin is back, can I persuade you to write something for it? Aside from a short piece that I just knocked off, there really is no original content in the queue. Contributions can be long or short, and can be a question about a cover that puzzles you, or an exposition of something that doesn't. The only requirements are that it be war-related and have some relation to the mails (as tenuous as using a cover as the thin edge of the wedge to give a history lesson -- that's what most of mine are -- though the ideal is actually related to mail processing or delivery).
WHERE WE GO FROM HERE

Since 2020 is off to a late start, the first issue is planned for April, and will be a double issue! (As of March 18, 2020, this issue has been sent to the printers. However, the current virus outbreak in the United States causes it to be unclear when this issue will be printed and distributed. The digital version is available on the MPHS website. ) We will follow that with a double issue in July and a final 40-page Bulletin in October. In 2021, the Bulletin will return to a conventional quarterly schedule of issues each January, April, July and October. The July and October issues will be oversized (50-60 pages each). In 2021 we plan to return to the January, April, July and October, with regular-sized (40-48 pages) issues.
Here's How You Can Help
Our major problem to start is we have absolutely no material. Whatever Tom had is on Tom's computer or in his study. We have contacted the family to obtain this material, but do not yet know if or when we will recover it. If you sent Tom anything in 2019 or before, for use in the Bulletin, please email or mail it to me as soon as you can. Contact information appears at the end of this summary.
We have noticed an almost exclusive focus going back decades on U.S. military mail. While we expect that U.S. material will continue to predominate in the MPHS, we are open to material related to other military forces and military postal services.
We also are open to reprints and joint publications of articles that are likely to be of interest to our members. If you are aware of worthy content published elsewhere, whether you wrote it or not, please let me know about it. Similarly, if there is a subject related to military mail and postal history that you feel is deserving of coverage, please share that with me.
Finally, keep in mind that while your editor may occasionally write for the Bulletin, his job is primarily as an editor, not an author. He will do all he can to produce a quality journal, but members must provide content for the MPHS Bulletin to continue to be sustainable.
What you produce can be long as a question or answer.  It can be straight postal history (rates, routes, cancellations and postal markings) or military history presented through postal material.  But if you do not provide it, our Editor cannot edit it. Please pitch in so that Dann can do his best work for you:
At this time, please direct all material to:

Dann Mayo, PO Box 6401, D'Iberville, MS 39540

email: k3j2j4jfhfh6h7mphsbcontentskjshwh2979807@yahoohcndheh478g858t85.com
More Links
Search the Military Postal History Website
Return to Military Postal History Main Page
Page Layout Design Made Possible by: Vanilla.

Webpage design by The Swanson Group

Updated May 19, 2020