THE YANGTZE RIVER PATROL - Imperial Japanese Navy
by Randy Pence

IJN URAKAZE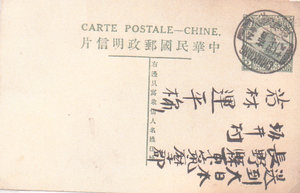 Postcard from Urakaze (Click on image to see larger version.)
The Uriaaze was a late comer to the Yangtze River, having been commissioned on December 15, 1940 as a Kagiro class destroyer. Sje was part of the escort for the Pearl Harbor strike force in late 1941. She was sunk by the USS Sea Lion on November 21, 1944. The postcard was mailed from Chinkiang on the Yangtze.

IJN Uji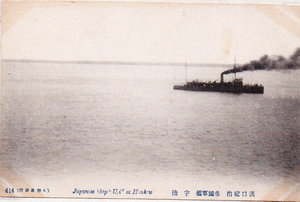 Image of Uji (Click on image to see larger version.)
The UJI was launched on September 29, 1940 and completed on April 31, 1941. She was given to China as a prize of war on September 13, 1945 and renamed the Chang Chi. In 1949 she was captured by the People's Liberation Army/Navy and renamed the Nan Chang. Her complement comprised 158 men.

IJN: 11th Gunboat Division - Hankow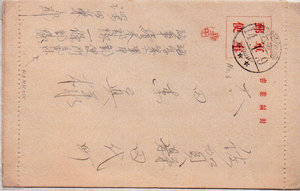 Lettersheet from 11th Division (Click on image to see larger version.)
This unit served on the Yangtze River from 1937 to 1945. It was headquartered in Hankow, and had 292 people from the Shanghai Special Naval Landing Unit attached to it. Rear Admiral Tanimoto Umataro was its commanding officer.

Ships Assigned to the IJN 11th Gunboat Division
| Ship | Homeport | Area of Responsibility |
| --- | --- | --- |
| Seta | Changsha | Chingking, Hira |
| Yaeyama (Flagshup) | Hankow | Uchang, Toba |

For More Information
For more information on all the navies involved, and several thousands photographic images as well as postcards, contact Randy Pence of Albuequeque, New Mexico.
The small bites presentations contained herein was developed by former MPHS editor Sergio Lugo, following a request to Pastor Pence in September 2017. It features: postmarks, ship illustrations, postcards and covers of a select few of the ships of these foreign navy flotillas.

Acknowledgements
Created by Serio Lugo from material supplied by Randy Pence
Mini-Presentation updated 1 February 2018
This online slide presentation created with reveal.js .

Instructions for Presentation:
Computer: Use your arrow keys to move from one slide to another. See: a How-To webpage with more options. (You can also click on the small arrow images in lower right corner.)
Phone/Tablet: Swipe left/right on your screen to move from one slide to another.
Select Image for Table of Contents (in upper left corner) to view Table of Contents.