Postal History from Women Serving in the First World War
United States
by Bob Swanson

About This Presentation
A small number of women served officially in the U. S. military during the First World War
Postal history material from these women is rare, whether domestic or overseas
Large numbers of women worked at "mens jobs" during the War, but were not officially serving in the military

Background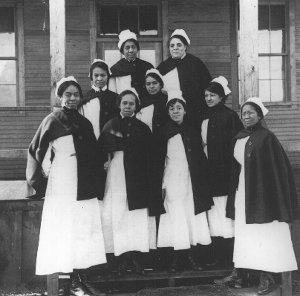 First African-American Army Nurses of WWI (Click on image to see larger version.)
The Army had the Army Nurse Corps in the pre-war era
The Navy Nurse Corps was in its infancy during the War
Women were used in the Navy and Marine Corps as office staff to free up men for war duty ("Yeomanettes")

Cover from Army Nurse, Camp Dodge, Iowa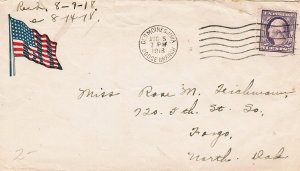 Front of Cover from Army Nurse, Camp Dodge, Iowa (Click on image to see larger version.)
Front of cover is typical mail from Camp Dodge
Return address on the back of the cover reveals that this was an uncommon item from an Army Nurse
Addressee appears to be a family member (sister?)

Return Address from Army Nurse, Camp Dodge, Iowa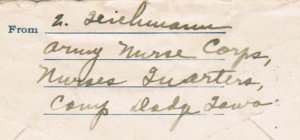 Return Address on Cover from Army Nurse, Camp Dodge, Iowa (Click on image to see larger version.)
Return address is army nurse with same family name as addressee (sister?)

Cover from Army Nurse, Fort Sill, Oklahoma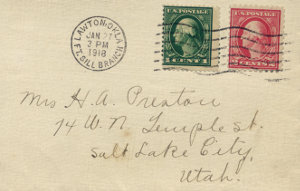 Front of Cover from Army Nurse, Fort Sill, Oklahoma (Click on image to see larger version.)
Front of cover is typical mail from Fort Sill
Return address on the back of the cover reveals that this was an uncommon item from an Army Nurse
Extensive letter contents paint a vivid picture of life at an Army hospital

Return Address from Army Nurse, Fort Sill, Oklahoma


Return Address on Cover from Army Nurse, Fort Sill, Oklahoma (Click on image to see larger version.)

Letter from Army Nurse


Letter from Army Nurse, Fort Sill, Oklahoma (January 1918) (Click on image to see larger version.)
"It is lonely and dreary here"
"...the wind blowing sand, dust, and smoke around and thru every crack"
"There are sixty-seven nurses here."
"Such a dirty place"
"...so much sickness, five deaths last night...it is so sad"
"The nurses all feel as if they were needed, and as if they were doing some good"
"The Charge Nurse...says we can consider it pioneering, and feel lucky to have things as good as they are."

Conclusion
Mail from women serving in the United States military during the First World War is rare, whether from domestic or foreign locations. Collectors are encouraged to watch for this type of postal history.

Acknowledgements
Cover examples from the collection of Bob Swanson
Mini-Presentation updated 14 February 2018
This online slide presentation created with reveal.js .

Instructions for Presentation:
Computer: Use your arrow keys to move from one slide to another. See: a How-To webpage with more options. (You can also click on the small arrow images in lower right corner.)
Phone/Tablet: Swipe left/right on your screen to move from one slide to another.
Select Image for Table of Contents (in upper left corner) to view Table of Contents.