1941, Germany, Stalag XXA, "The Camp", Thomas Burke, WW II-Era Christmas POW Card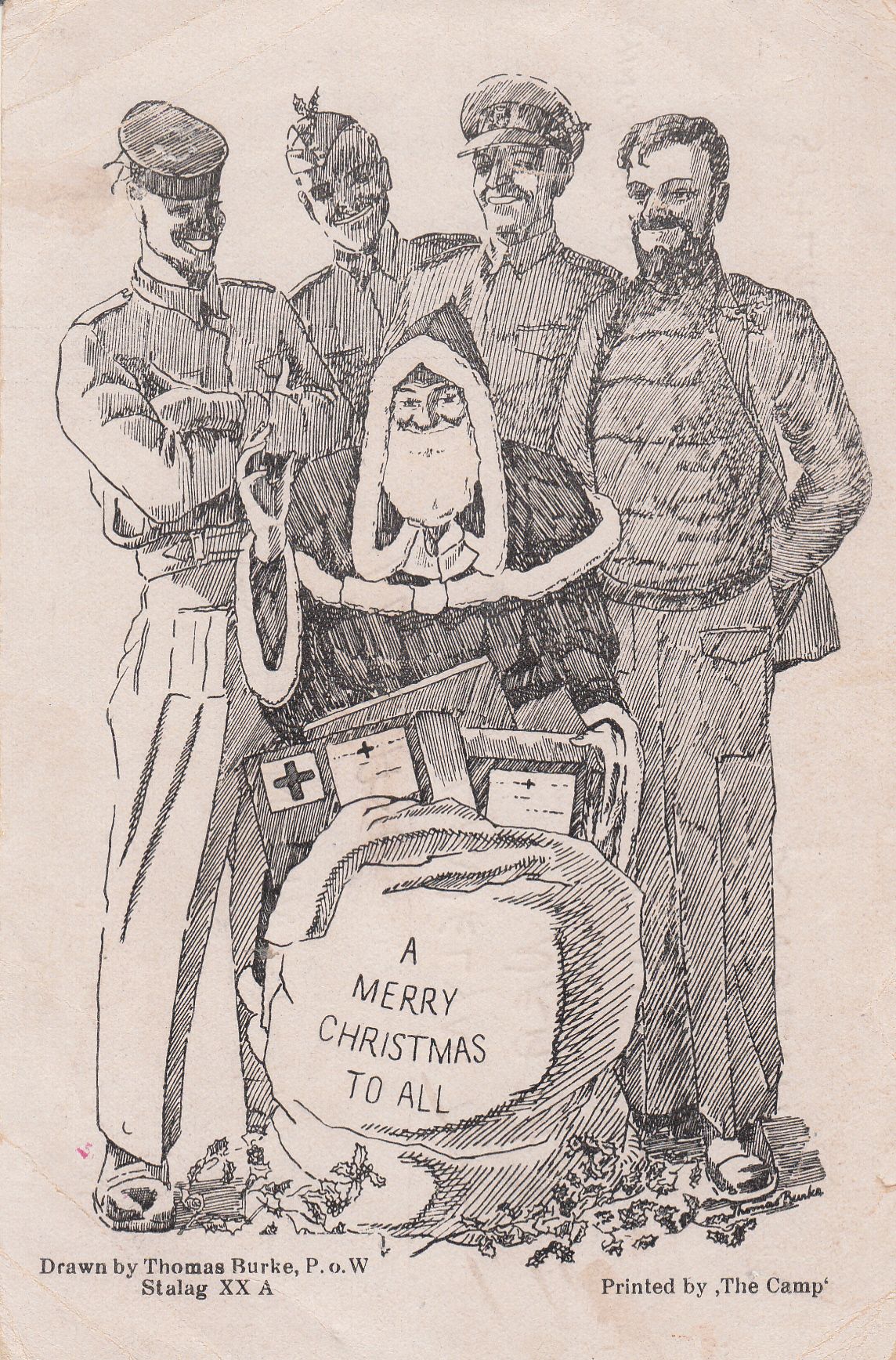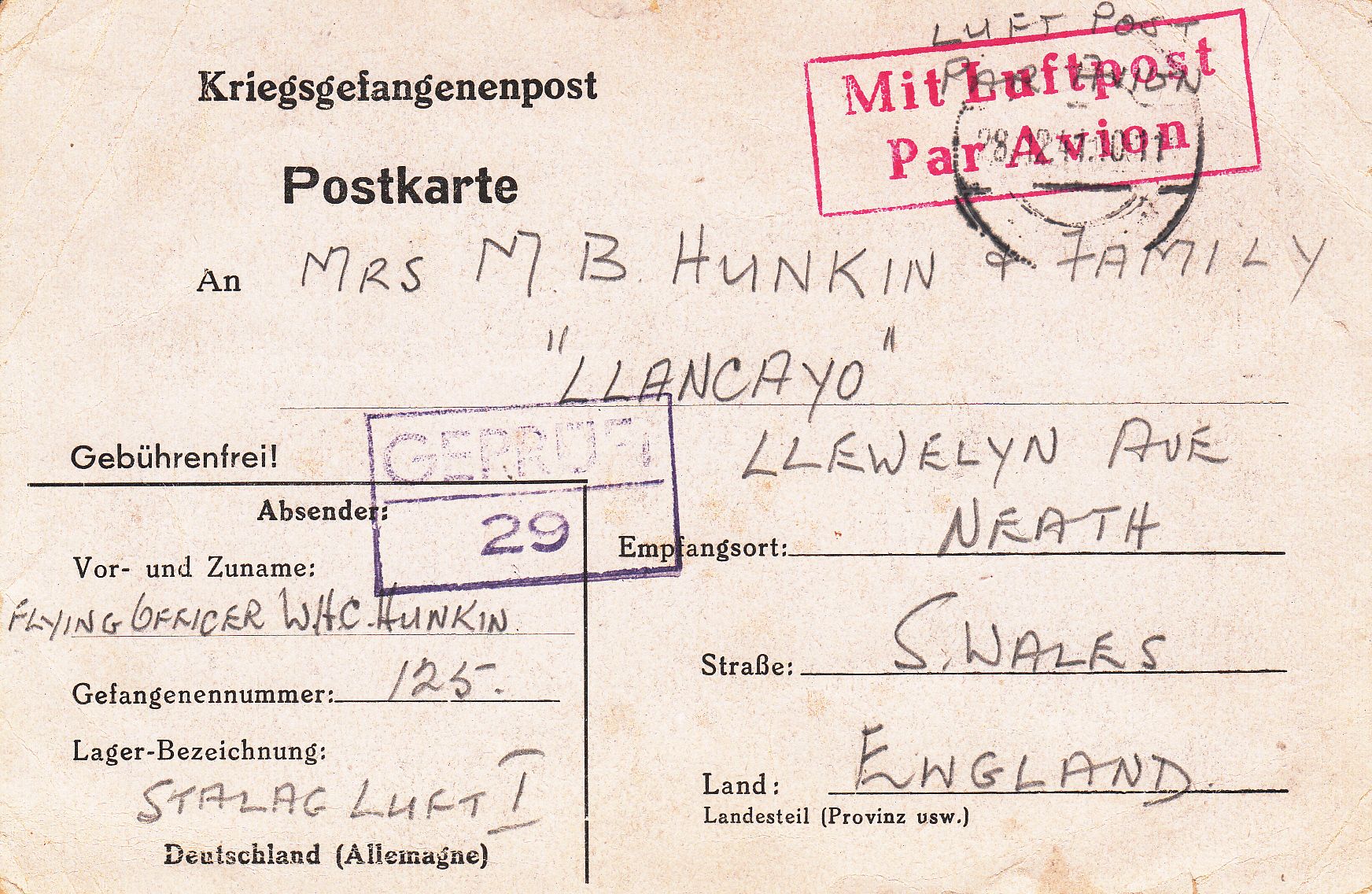 Description
1941, Germany, Stalag XXA, "The Camp", Thomas Burke
NOTES
Lievin reports 2 examples. The first, shown, is return addressed Stalag Luft 1, posted 28 December 1941. The second, with a Stalag XXB censor handstamp, is posted on 16 Jan 42.
Stalag Luft 1 was located in Barth, Germany, while Stalag XXA was located in Thorn/Torun, Poland. How this card came to be used in camps located about 500km from each other is a mystery,
Information is available on the sender of the Stalag Luft 1 card:
Vickers Wellington Mk.1a P9227 (KO-C) 115 Squadron, RAF: Written off (destroyed) when lost (Failed To Return) from combat operations over Germany. All six crew survived, but were captured, and taken PoWs. According to the official Air Ministry file into the incident (File AIR 81/1144): "Wellington P9227 crashed near Oldenburg, Germany, 19 July 1940. Pilot Officer W H C Hunkin, Pilot Officer J Barker, Sergeant G Clark, Sergeant H Dickson, Sergeant J J MacGregor and Sergeant A Colley: prisoners of war".
https://aviation-safety.net/wikibase/230023
William Henry Clement Hunkin, POW #125, is also shown as having been imprisoned at Stalag Luft Sagan (which would have been Stalag Luft 3 – consistent with the temporary closure of Stalag Luft 1 in April 1942.
http://aircrewremembered.com/hunkin-william.html
Stalag Luft I: An Official Account of the POW Camp for Air Force Personnel 1940-1945, Frontline Books, 2018, viewable through
mentions (pages 54, 57, 58) Hunkin as one of the officers who brought to Stalag Luft 1 the codes used to send secret messages to and from the UK
The sender of the second card may have been the Henry George Cooper mentioned at
https://www.wartimememoriesproject.com/ww2/pow/powcamp.php?pid=3341
and
https://wartimememoriesproject.com/ww2/view.php?uid=234454
More digging required on this one.
An illustration of GER4106 is shown at http://www.stalag18a.org/mementoes.html
with the notation "A Christmas card sent in 1943 by Gnr John Braysher, RA. The original was drawn by POW Thomas Burke in Stalag XXA and printed by the POW newspaper 'The Camp'. "
An artist's drawing, used (with modifications) for the card is shown at
https://picclick.co.uk/Rare-Pen-Ink-Drawing-by-Artist-233024549894.html
Whether the artist is the same as this man mentioned (and pictured from a link on the stalag18a.org site mentioned above) is unclear: "Pte Tom Burke of the Devonshire Regiment brough back this banjo-ukelele which has been signed by the other POWs in his Work Camp (probably 320/L)."
---
More Links
Back to Military Postal History Main Page
Page Information
Page Layout Design Made Possible by: Vanilla.

Webpage design by The Swanson Group

Updated 3/1/21, 11:39 AM