Search the MPHS Website
Membership Information for the Military Postal History Society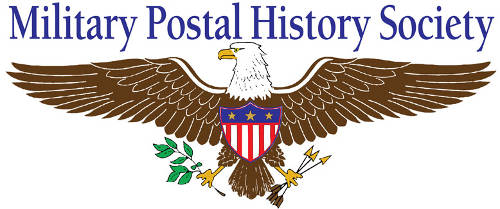 Membership is open to all persons of good character. The Society operates on a membership year running from January 1 to December 31. This web page describes membership fees and processing for both new members, and renewal for existing members.
We are a non-profit society largely staffed by volunteers and the basic membership fees just cover our publication costs. Please do consider becoming a Sustaining or Patron member by providing additional support for the MPHS such that projects, further website development and publication work can be undertaken. Supporting contributions will be acknowledged annually in the Society Bulletin unless otherwise requested. Your support is highly valued and appreciated.
You may print out an application form for joining the Military Postal History Society (PDF file, note that dues have changed for 2021, see next item) and mail it to the Secretary. Information about joining is on the form.
Alternatively, you may download the membership application as a Microsoft Word (tm) Document, fill it in and email the modified document to the Secretary.
NOTE: dues amounts are different for 2021. Please refer to the PDF file with 2021 dues amounts.
See the PDF information page for help on downloading and using PDF files.
Membership Duration
Members joining mid-year will receive back copies of bulletins they missed with their welcome letter. This is done, rather than attempting to pro-rata the annual dues.
Information for Renewing Members
Here is the
letter containing the 2021 dues amounts
.
Donations
The Society is an IRS 501.3c tax exempt non-profit educational organization with donations in excess of the basic dues being tax deductible to the extent provided by law.
Payment Options
Members presently have two payment options: U. S. dollar check or PayPal. For PayPal use, see next section:
Instructions for Use of PayPal
New applicants and renewing members may make payments using PayPal. First, determine the amount of dues you are paying. Next, go to the following web page, which contains detailed instructions for use of PayPal by MPHS users.
NOTE: when paying, use our PayPal email address: dues6vhfhrh456588@militaryphsfjek389u9796.org9xnbsnwn234555 for your payment. [This payment address is NOT to be used for any e-mail messages!]
PayPal instructions are located at: the Military Postal History Society PayPal payment instruction page.
---
More Links
Return to Main Military Postal History Society Page
Page Layout Design Made Possible by: Vanilla.

Webpage design by The Swanson Group

Updated 6 September, 2020