The Military Postal History Society was founded in 1937 as the War Cover Club, American Philatelic Society Unit #19. The original club focused largely on the postal history of the American Expeditionary Forces in World War I. The group changed its name in 1991 to better reflect the wide variety of collecting interests of its members.
It promotes the study of the postal aspects of all wars and military actions of all nations. Today members' interests include soldier campaign covers, patriotics, prisoner-of-war mail, naval mail, occupation and internment covers, picture postcards of a military nature, camp cancels, field post offices, propaganda labels and leaflets, V-mail, censored mail and similar related material.
The Society publishes a quarterly journal, Military Postal History Society Bulletin (ISSN 1075-5640), as well as separate books such as the APO directory. Mail auctions are frequently conducted.
Subscription to the journal is included in the modest annual membership dues!
Auction Manager Needed
Due to the unfortunate passing of our previous Auction Manager, the Society is now searching actively for a new person to take over our regular auctions. Please contact the President and volunteer your time.
New Web Page Items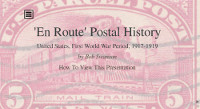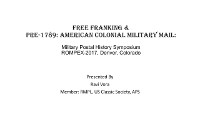 New Educational Material On-Line
The Society has been blessed with a set of presentations on Military Postal History, which were given at the Rocky Mountain Stamp Show in May 2017. To add to this bonanza, we have a new exhibit and article by Dave Kent. A new on-line feature called "Small Bites" of military postal history has also been started. Check the Presentations , Exhibits, and Articles Pages for links to these excellent educational items.
Two very active Society members, Ed Dubin, and Al Kugel, wrote a massive (33 page) article that dominated the April 2017 issue of the American Philatelist (AP), the magazine of American Philatelic Society. The subject was America's involvement in the First World War, which began in April, 1917.

The article is now available here on our Society website in PDF format. The article is available at: WWI Article by Dubin and Kugel from the American Philatelist, April 2017. The copy we are providing is courtesy of the APS. (For more information about the PDF document format, check the MPHS explanation web page for users of PDF files.)
Links to MPHS Webpages
Society Information

Research and Educational Materials

Society Publications

Auctions


---
Page Layout Design Made Possible by: Skeleton.

Webpage design by The Swanson Group

Updated July 23, 2017