Bob Collins' Korean War Postal History Exhibit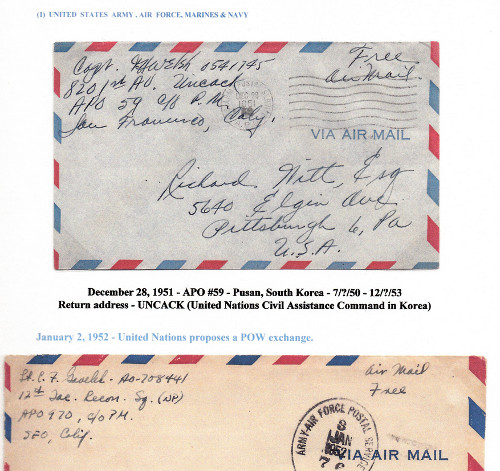 This page provides links to the content of the following exhibit:
Korean War: [Author: Bob Collins]
Background
First of all, there is an additional background information web page for Bob Collin's Korea Military Postal History exhibit.
Contents of Exhibit
There are three groups of files, each group containing the eleven files of content for this massive exhibit (10 frames + introduction).
PDF Files
The first group are the eleven PDF files that can be read by the Adobe Acrobat Reader (tm). (The 11 PDF files vary in size from 8 to 18 megabytes each.) You should be able to read these files on any computer, tablet, or phone. For more information about PDF files, please review the MPHS description page for PDF files.
Direct HTML Viewing of Exhibit
The second group contains the same eleven files, made available for direct viewing on the Military Postal History Society website. Each web page has a table of contents to point to the various frame images. To view the exhibit, simply click on the HTML links below.
Exhibit Contents for Off-Line Viewing
The third group contains the same exhibit content, but stored as web page files that you can download to your computer, phone, and/or tablet. This type of content is called "website-in-a-box". Once you have downloaded the eleven ZIP files, you can view the exhibit offline on your computer, tablet, or phone. (The 11 downloadable files vary in size from 8 to 15 megabytes each.) Please review the MPHS web page describing the use of ZIP archives for more information. (NOTE: each of the 11 file sets should be stored in a separate area (folder) of your device.)
File Links
PDF Files
HTML Pages for Online Viewing
Downloadable Webpage Files (for offline reading)
More Links
Return to Main Military Postal History Society Page
---
This web page uses the 'Power of Em' page layout as described on the 'Power of Em' description page. Original code by Louis Lazaris.

Pages created by The Swanson Group .